A Message From the Supporters of Our Animal Haus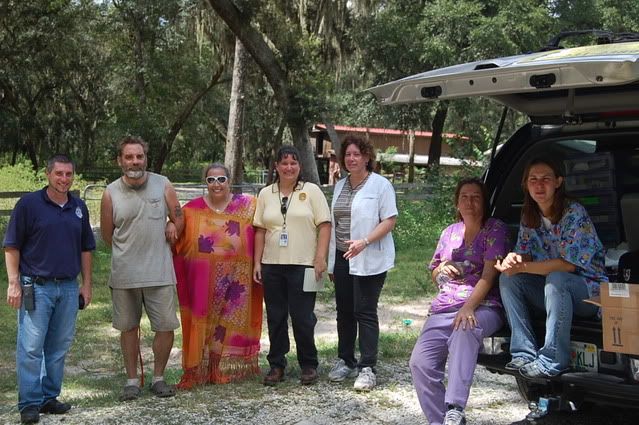 Animal Control and Dr Pinero and staff at Our Animal Haus with Carolyne and Teddy on September 25, 2009. Do these people look as if they are in the presence of distressed animals? Nope. Everyone looks happy. Yet, a little over one month later, most of these animals that were vaccinated, treated, and groomed on this day, would be dead. How on earth could this have happened?
READ THE COMPLETE STORY HERE
Remember the face of this cat, George, who did not have to die. This is how he looked as he was being illegally carted off to his death by Animal Control on 10/30/09.
Carolyne Mas once graced the airwaves in 1979 with her sax-driven anthem, "Stillsane", a song about holding on to one's sanity in the face of conflict. Thirty years later, she faced that battle for real.

After working as a professional musician for over 30 years (her first paid gig was at the age of 13), Mas went on in 1998 to form an animal sanctuary in Nashville, Tennessee called "Our Animal Haus". The sanctuary was moved to Florida in 2004 after Mas' father died and she volunteered to care for her Aunt with Alzheimer's along with her grieving mother.

After finding a perfect location in Brooksville, the sanctuary thrived. Its residents included the original dogs from Tennessee, all of whom were elderly large mixed breed dogs, and cats who had AIDS and were HIV positive. Carolyne and her husband were committed to providing them with a safe and beautiful place for them to spend the rest of their lives..all on their own dime. They also began to take in several exotic birds, some with special needs, as well as several horses, one of them blind. "Our Animal Haus" was becoming a safe haven for the unadoptable, unwanted, and special needs animals who otherwise would have had no place to go.

Beginning in February of 2009, Mas and her husband began to have several visits from Animal Control of Hernando County. One of the complaints had been prompted by a call from a recently fired and disgruntled employee. Unbelievably enough, another complaint came from a Facebook friend after seeing Carolyne's plea for donations. Still, Animal Control was friendly, even helpful, and everything was quite congenial.

On September 10th, 2009, Logan Neill, an Arts and Entertainment journalist for the Hernando Times, a branch of the St. Pete Times, requested an interview with Mas in response to an article called "Carolyne Mas: Her Animal Haus", which had come out in the Huffington Post on September 9th. Mas granted this interview, even providing the name and phone number of one of her "friends" at Animal Control as a reference. After all, just 2 weeks earlier, they had said she was a "good sanctuary".

But...something wrong happened. In direct breach of his ethics as a journalist, Logan Neill, who had not even taken a tour of "Our Animal Haus", used the number given to him by Carolyne to create trouble. Although Mr. Neill denied having done anything of the sort, Animal Control claimed just the opposite. Mr. Neill also stated that he was "skeptical" from the beginning, when confronted as to what his possible motive could be for causing such terrible destruction.

What ensued was nothing short of a nightmare. Logan Neill began to profit from the situation. He proceeded to write a series of slanderous articles for the Hernando Times, containing undocumented information and outright lies about "Our Animal Haus" and its owners. Animal Control began to seize the animals at "Our Animal Haus", first by taking Ginger, a 30-year-old mare, and then euthanizing her. They falsely claimed she was suffering from malnutrition and was instead 18 years old, despite her previous Vet records stating her birth date as 8/30/1979.

On October 30th, 2009, almost 200 animals were seized from "Our Animal Haus" because of false allegations made by Animal Control, stemming from the euthanizing of Ginger. These animals included all of the dogs, all of the cats, perfectly healthy exotic birds, as well as healthy pure bred horses and ponies. Animal Control would end up killing most of the dogs and all of the cats, robbing them of living out the rest of their lives in peace. They would, however, go on to profit from the sale of the birds and the horses, and a handful of small pure-bred dogs.

Presently there are cases all across the US where Animal Control or the local Humane Society have acted outside the scope of local ordinances, illegally confiscating animals, from valuable show dogs and show cats, to well kept breeding birds, to thoroughbred horses.

Apparently these local officials have learned that they can achieve three goals:
1) adopt out (sell) animals and property for money,
2) receive donations from the public for their "good" work
3) receive commendations from their superiors

Therefore, they have financial reasons for "taking animals under color of law." However, they generally use the argument that the animals are abused, not properly cared for, starving, or treated cruelly. They are quick to euthanize any animals that will be too much trouble to keep and that cannot be adopted to the public for money. Many cases like this are being documented due to the outrageous assault on the Constitutional rights of animal owners in the U.S.

Carolyne's Fourth Amendment rights were clearly violated by the illegal search and seizure of her animals and expensive bird cages, and Animal Control fast-tracked her case, acting often without any official paperwork allowing them to do so, robbing Carolyne of her Fifth Amendment right to due process; she was never given enough time to secure an attorney.

In the end, Carolyne paid dearly for the emotional loss of her long time companions, and the ones whom she sheltered from harm for so long. Her name and reputation was unfairly and unmercifully dragged through the mud by the press who never gave her the time to tell her own story. Her home was invaded as well as the privacy of her child...yet there seemed to be nothing that could be done about it. Many of the officials involved in the case against Carolyne would later be exposed as criminals themselves.

I encourage you to explore all of the links on this page. If you wish to contact Carolyne, especially if you have been the victim of an illegal seizure, you can email her at samlorac@aol.com.

Thank you for taking the time to read this.

Sincerely,
The Supporters of Our Animal Haus
www.ouranimalhausdestroyed.blogspot.com